Cushion caster for towing SKY-2 Type
The shock to load on uneven road surface is reduced to approximately
80%

of conventional impact force.

Excellent
shock and vibration
absorbing performance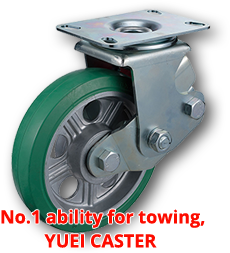 Shock relieving "Cushioning performance"

Lightly moveable "Starting performance"

Realize long service life "Durability performance"
Download
Cushion caster for towing SKY-2 Type
Verification of cushion performance
Absorbing shock by built-in spring
"Shock absorbing spring" reduces the impact transmitted from the unevenness (roughness) of the road surface, to about 1/5 of the conventional one (relative to our conventional products) and suppresses damage to the carriage.
(*Depending on the usage environment, the wear of the tire is reduced to 1/2 - 1/4 compared to the conventional product without spring for the same transport mileage.)
Shock reduced
by about
80
%
Compared with equivalent
Impact acceleration test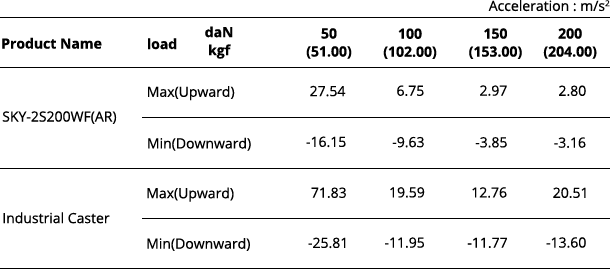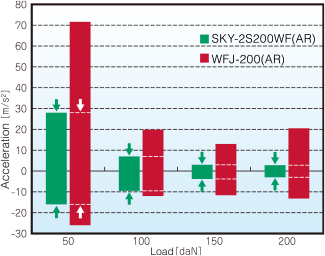 Spring can be selected according to the application
In order to cope with various loading capacity, two types of built-in springs are available in the product line.
You can choose the optimum cushion performance from the set load according to the carriage to be transported.
Shock absorption range of spring
Load mark

-1
-2
Color of Spring

Blue
Red
Standard Load

225 lbs
450 lbs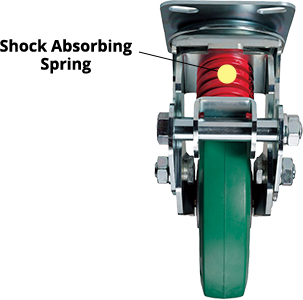 Turnability
Premium PU is adopted to SKY-2 type.Low frictional resistance, reduced more than half the burden when caster starts to move. Reduce the burden on workers and it's also effective for improving efficiency. (KAIZEN)
Reduce less than
50
%
Compared with equivalent

Turn ability test result
(JIS B 8920 Turn ability test)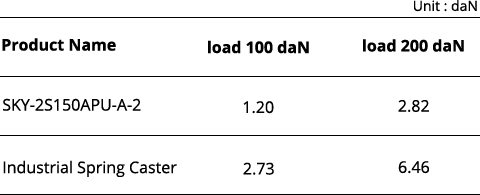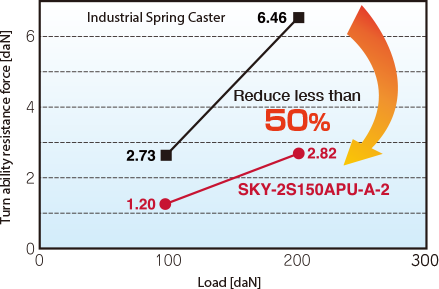 Lineups of Cushion caster for towing SKY-2 Type
Swivel

Fixed
Lineups of SKY type
"Anti-Static Caster" protecting electrical equipment and medical equipment from static electricity

Anti-Static Caster